We feel happy to welcome you in the NLH Group!
Our first priority, especially during this period, is to ensure the safety of our guests and associates. Thus, we would like to keep you updated about our actions.
We are committed to monitor the latest guidance from the Centers for Disease Control and Prevention (CDC) and develop appropriate guidelines, which include everything from training on safety, sanitation and social distancing protocols, to providing appropriate personal protective equipment and access to hand sanitizers while on property. Furthermore, we have set a person responsible to run the crisis plan regarding suspicious COVID-19 cases and to keep record of all the incidents that have happened at the hotel.
We added Plexiglas glazing at the front desk to provide an extra level of protection, we have a separate "COVID-19 medical kit" at our reception desk (full body protective uniforms, masks, gloves, antiseptics tissues, hand sanitizer gel, non-contact digital thermometer) and we have set up hand sanitizing stations near the entrance and front desk, as well as into each room for your personal use. The elevator is for single person use only and the entrance is not permitted to people who are not in-house.
Our staff has been trained specifically on COVID-19 and is regularly updated on these practices. They will be there to remind you to keep social distance and you may see them in action, sanitizing all surfaces regularly, offering hand sanitizers, face masks and wearing gloves when servicing your room. Team members will enter the property only after their temperature has been scanned, while always wearing a mask.
Neighborhood Lifestyle Hotels already had a high score rating in cleanliness, but we are working to adopt the latest guidance on hygiene and safety measures. Our new cleanliness practices and protocols in combination with ECOLAB high standard detergents should be immediately evident to the guest, cleaning with appropriate equipment with particular attention paid to high-touch items (i.e. elevator, knobs). We have extended the check-out/check-in period (11.00 – 15.00), so that we have the time needed for thorough cleaning of rooms.
Digital enhancements designed to keep you as distant as you want to be. We will offer contactless guest services including check in, check out, rooming via smart TV, concierge support, front desk text messaging, television controls and menu ordering.
We have increased the frequency of cleaning and disinfection in common areas, focusing specifically on the front desk's counter, the elevator and the elevator buttons, door handles and keycards. We are also increasing the frequency of cleaning in the areas where our associates work "behind the scenes".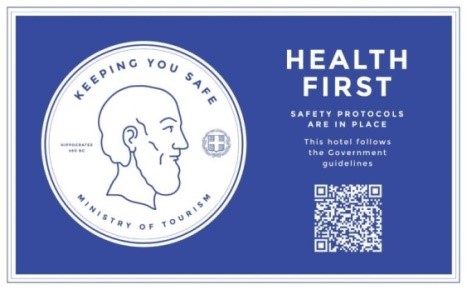 Room Cleaning
In guest rooms, we added protocols to our detailed cleaning practices, which are recommended by the Centers for Disease Control and Prevention (CDC) in regard to cleaning the rooms after guests depart and before the next guest arrives, with particular attention to high-touch items. Housekeepers always use gloves, protective aprons and masks, which they carefully dispose after cleaning each room. Our vinyl flooring is antibacterial protection certified and its ultra-hygienic coating and lack of seams means cleaning is a walk in the park. In addition, we use steam cleaner for fabrics disinfection after each guest's departure. Cleaning of rooms for in-house guests will be done only upon request. For this reason, we provide laundry bags upon request for giving guests the option to not have every day's cleaning, but just changing towels. Thus, they can put the dirty ones into the laundry bags and leaving them out of their room for the housekeeping.
Each room is equipped with:
A/C unit that operates individually and is not connected to the other rooms' ventilation systems.
Individual single use bath amenities.
One-use protective cover to remote control for TV (either download app to smartphone for ΤV operation via phone instead of remote control).
Breakfast menu and info material into the smart TV instead of hard copy.
Recommendation for closing lid before flushing into bathrooms.